What is a SERVPRO Emergency READY Profile?
10/1/2019 (Permalink)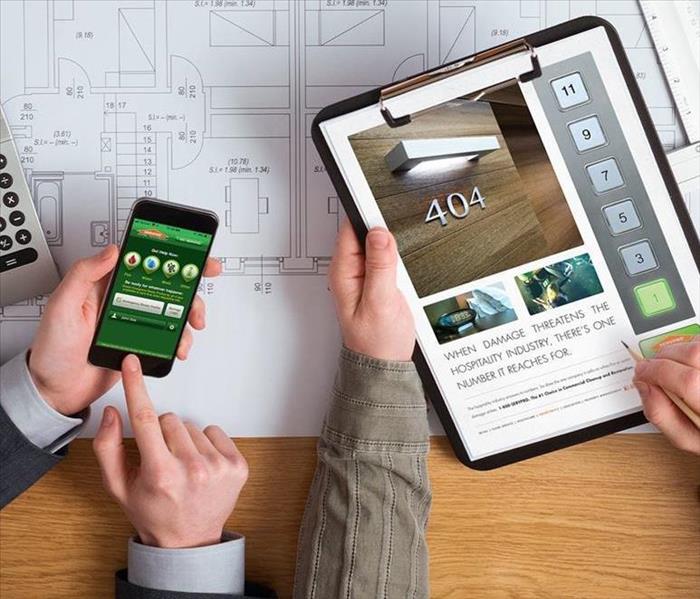 Prepare your commercial property for a water, fire or mold disaster by creating a SERVPRO Emergency READY Profile using our convenient mobile app.
While September is officially National Preparedness Month, it's never a bad time to prepare your business for a disaster emergency. Creating a free SERVPRO Emergency READY Profile is a good first step.
Every business owner or property manager should have a business continuity plan in the event of an emergency. Many businesses close and never reopen after experiencing damage caused by flooding, fires and other disasters. The businesses that return to full operation do so by planning ahead and being prepared. With that in mind SERVPRO of North Hollywood is here to help you get started.
Register Your Account
Start by visiting SERVPRO.com/ready and to create an account. Be sure to list SERVPRO of North Hollywood as your contact should your commercial property experience fire, water or mold damage.
Begin creating Emergency Ready Profiles (ERP) for each property. The ERP stores important details about your property to facilitate a clear plan of action in the event of a disaster. Your ERP includes vital data, including your property's location, access details, utility and emergency contacts.
Once an account has been created, you can manage your SERVPRO Emergency READY profiles on a phone or tablet using apps available from the Apple App Store or Google Play Store by logging in with your account details. This will help you fully complete your profile with the necessary details covered below.
Populate Your Emergency READY Profile
As part of our overall Emergency READY Program, SERVPRO of North Hollywood offers a no cost assessment of your property to help you enter vital information in your Emergency READY Profile.
Whether you do it yourself, or we help you, be as thorough as possible. Include photos with each section of your profile. Make note of the location of water, gas and electricity shut-offs and provide details of any hazardous materials present on site. If you'd like to include anything not specified in a section, you can also add notes on the last step.
Once completed, share your ERP with key stakeholders via email or through the app. You can also email us your ERP to ensure we have it on file.
Should Disaster Occur, Get Help Fast
You can contact SERVPRO of North Hollywood directly through the app. If an ERP exists for the damaged property, some details necessary to submit a fire, water or mold loss pre-populate in the app to facilitate the submission process.
Once you've submitted your information to us, our highly-trained team of restoration specialists springs into action to respond "faster to any size disaster." Review our disaster mitigation tips within the app to guide you on things you can do immediately to mitigate the damage as you wait for us to arrive at the scene.
There are many steps a business owner or property manager should take to be prepared for a disaster. But with a SERVPRO Emergency READY Profile, you can feel secure knowing SERVPRO of North Hollywood is ready, willing and able to make commercial property damage from water, fire or mold "Like it never even happened."