5 Places to Check for Hidden Water Leaks
2/26/2019 (Permalink)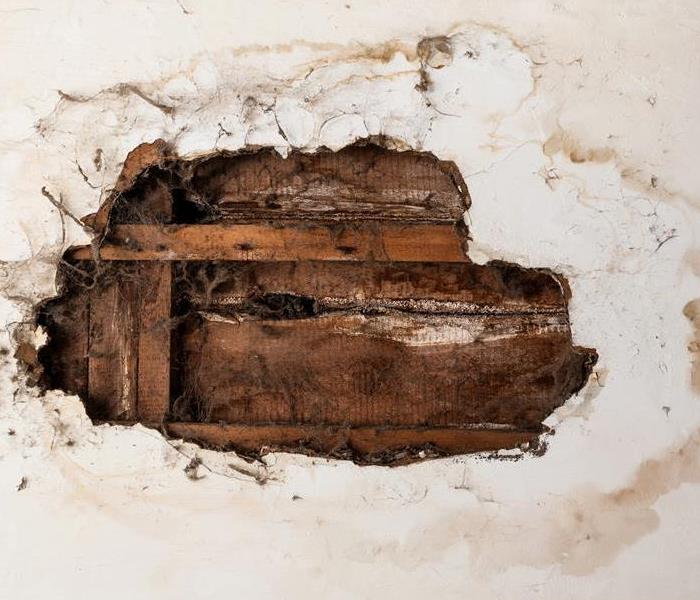 Minor hidden water leaks can become a major headache if they lead to a water damage emergency. An ounce of prevention can be the best prescription.
Plumbing leaks are one of the most common sources of home water damage. Sometimes the leak is plainly visible. If you see water spots on your ceiling or walls or feel damp areas around sinks, toilets or appliances such as refrigerators or washing machines, your first call should be to a local plumber to fix the leak and stop the water damage from spreading. And, of course, your second call should be to SERVPRO of North Hollywood so we can assess, repair and restore water damaged property.
Sometimes, however, the signs of a water leak aren't so obvious. If your water bill spikes or there's a noticeable drop in your water pressure, you may have a hidden water leak. So here are five places to check for hidden water leaks to help you save both water and money and protect your home from water damage.
Damaged Pipes and Pipe Joints
Many things can cause an otherwise solid pipe to start leaking. Over time, pipes can corrode and rust from prolonged use. Cold temperatures can cause any water inside the pipes to expand and the pipe to burst. Pipe connectors may become loose.
And because pipes are often hidden behind walls or in places seldom accessed such as attics and basements, you may be completely unaware of a problem. A licensed plumber that specializes in leak detection can detect and repair hidden pipe leaks.
Water Heaters
Speaking of out of sight, out of mind, many homeowners don't even know where their water heater unit is located, much less pay attention to the vital role it plays in their home. To ensure optimal performance, service your water heater annually. In addition to inspecting for water leaks, you or a licensed plumber should also safely flush out mineral deposits, check the pressure valve and test the unit to help prevent leaks and other water heater malfunctions.
Washing Machines
Another common source of a water leak is a water using appliance, such as a washing machine. Over time, pipes, hoses and seals become worn and, if not inspected and repaired or replaced, can start leaking water when the machine is in use. Always keep an eye out for damp areas around the washer and be sure to conduct annual washing machine maintenance to mitigate the potential for water damage before it happens.
Central Air Conditioning Units
It goes without saying that central air conditioning (HVAC) units get quite a workout in homes across Los Angeles during the summer, particularly inland areas like the San Fernando Valley. Often hidden in attics or crawl spaces, these workhorses should be inspected before the next heat wave arrives. In addition to checking for problems like clogged drain pipes, which can cause drain pains to overflow, an HVAC inspection should also look for dirt, mold and other particles that could compromise the air quality in your home.
Sprinkler Systems
Because the pipes are hidden underground, you may not notice leaks in your lawn's sprinkler system. There are, however, some signs you have an irrigation leak. For example, one symptom of an irrigation pipe leak is the appearance of mold or mildew on the grass. You can also look for pools of water between or around sprinkler heads. Or if you notice a dip in water pressure inside your home while your sprinklers are running, that can also point to a potential hidden leak. Specialized leak detection equipment may be needed to find the source of an underground leak.
Ultimately, an ounce of prevention can be the best prescription for homeowners concerned about potential water damage. Should a water damage emergency strike, however, call SERVPRO of North Hollywood anytime, 24/7, for help cleaning and restoring your property "like it never even happened."