What Do Fire Restoration Companies Do?
9/27/2018 (Permalink)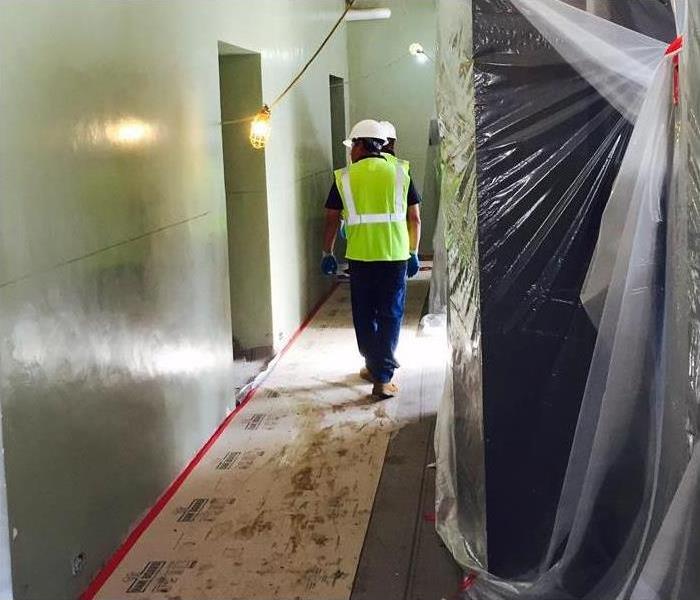 When your home suffers damage after a fire, SERVPRO of North Hollywood can clean and restore your property to its pre-fire condition.
When fire threatens your property, the first and most important thing is to ensure you and your family are safe. The second most important thing is to alert the local fire department so they can respond quickly and minimize the damage to your home and belongings.
Once the flames are out and the smoke clears, however, many homeowners are left with more questions than answers. Is it safe to re-enter your property? Which of your possessions can be recovered and restored? Will my insurance company cover the costs of repairing the damage?
To answer these questions, we recommend calling a professional fire restoration company such as SERVPRO of North Hollywood right away. Here's why.
We Inspect the Damage and Can Protect Your Property
Before you return to your home, an experienced team of technicians should carefully assess the damage caused by the water, fire, smoke and soot. Besides evaluating the extent of the damage for insurance purposes, it is important to also assess the risks for additional harm to the property.
Since fire damage can compromise windows, walls and roofs, our team will board up openings and place tarps to help protect your property from further loss.
We Remove and Dry Out Fire Hose Water
Sometimes the worst fire damage isn't caused by the flames themselves but from the large amount of water necessary to douse them.
Fire restoration companies such as SERVPRO of North Hollywood can also work to quickly mitigate water damage by extracting any standing water and drying and dehumidifying the remaining moisture in flooring, walls and furniture.
We Properly Clean up Smoke and Soot Damage
Even when a structure escapes the wrath of a fire's flames (such as with nearby wildfires), it can still bear the brunt of damage from smoke and soot. While less frightening then the fire itself, the damage caused by smoke and soot can still be extensive, especially if left untreated.
Porous surfaces, such as stone tile or countertops can become discolored from the acidic chemicals found in soot. Smoke, of course, can contain toxic gases which can then be inhaled or absorbed through the skin. In short, it is just as important for your health and safety to properly clean smoke and soot damage as it is to address damage cause by actual flames.
We Restore Your Property
Ultimately your goal is to return your home or business to its pre-fire condition. Because SERVPRO of North Hollywood is licensed in the state of California as a general building contractor, we can go beyond mitigation and clean up from water and fire damage to replace drywall, install new carpet or other construction services and restore your property "like it never even happened."